CORPORATE OUTLINE
Company registered in JAPAN and established in 1963.
Company's Trade Marks registered in Japan
MIZUKUUKAN (mainly for plumbing supplies) and ZETTO (Agricultural products)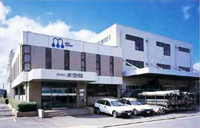 Sales headquaters
Head Office & International Division
3-8-1, Shinmachi, Nishi-ku, Osaka 550-0013 JAPAN
Tel. +81-6-6532-3012 Fax. +81-6-6533-2991
Sales Headquarters and Distribution Center
63-27, Omura, Miki, Hyogo 673-0404 JAPAN
Tel. +81-794-83-0668 Fax. +81-794-83-1571
Tokyo Office
#302 3-1-10 Otsuka, Bunkyo-ku, Tokyo 112-0012 JAPAN
Tel. +81-3-6902-0781 Fax. +81-6902-0782
Capital Stock
Japanese Yen 30,000,000
Banks and Accounts
BANK of MITSUBISHI-TOKYO UFJ (Swift BOTKJPJT),
Tamatsukuri Branch (007)
Current Account #300015

RESONA BANK (Swift DIWAJPJT),
Osaka Nishi-ku Branch (108)
Current Account #1646936
---
Main Business
Development and Marketing for Plumbing Supplies
---
Main Products and Customers
1) Providing TOTO products and other plumbing items to leading Home Centers in Japan.
2) Selling Stainless Flexible Tubes and related products to major Manufacturers and Wholesalers in Japan.
3) Providing Valves under OEM basis to main domestic Manufacturers.
4) Marketing and selling ZETTO Spray Nozzle to major seed companies in home and overseas customers.
---
Main Suppliers
+TOTO (A world famous manufacturer for sanitary ware and related products)
+Sumitomo Electric (A provider of sealing tapes)
+Various domestic and overseas suppliers for many kinds of plumbing products
---
Best Mix of Japanese Quality and Chinese Price!
Products with our Trade Marks manufactured in our factory in China are in accordance with our QA code and are carefully inspected in our inspecting plants both in China and Japan. Stainless Tubes are assembled and inspected in Japan using Nuts made in China.
---
Catalog Donwload
| | | | |
| --- | --- | --- | --- |
| | AN IDEAL SPRAY NOZZLE FOR PROFESSIONAL USERS! 1.13MB | | STAINLESS FLEXIBLE TUBES & RELATED PRODUCTS 3.93MB |